As I continue to make my life a little
Greener

,
with using less power, to recycling, to just being more conscious of our environment I thought of another

Green

thing that I love~

Green Tea

!
Green Tea
is one of those drinks that some people feel
isn't
okay to drink. While I completely respect others' opinions, I just wanted to do a small post on why
Green Tea
is so great for you. The taste may take a little while to get used to, but it is super good for you. I love how it's so light & fresh. Click
here
to see some of the many benefits of
Green Tea
. I don't love it plain, but it can be made in a variety of ways. Adding mint or lemon is yum! Here is a great recipe for a
Green Tea with Ginger & Mint
. I prefer to serve mine cold, keep it in the fridge in a pitcher and whenever you need a little sweet instead of reaching for a higher calorie or sugar loaded beverage you can pick a healthier option! (of course water is the #1 choice but sometimes you just need a little flavor!) Just pour it over a tall glass of ice & enjoy!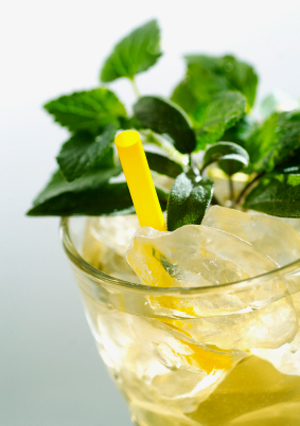 being
healthy
makes you
happy
xoxo
mari